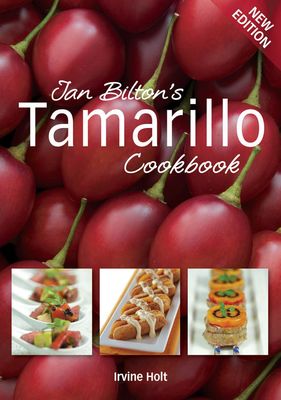 Jan Bilton's Tamarillo Cookbook
$20.00
Jan Bilton
Savour over 100 innovative recipes and ideas for tamarillo starters, drinks, salads, main courses, desserts, bakes and preserves.
The taste of tamarillos can add something special to almost any dish. They are a cook's best friend — extremely versatile — and even when cooked, frozen or preserved, tamarillos retain their bright colour and distinctive flavour.
Check out the choice selection of easy, appealing recipes which use one of New Zealand's most distinctive fruits combined with other popular local foods such as venison, lamb and salmon, as well as on pizzas, in pastas, sambals, sandwiches, salsa, marinades, mayonnaise, mousses, fruit salads and ice creams.
Jan Bilton's Tamarillo Cookbook statistics:
Publisher: Irvine Holt Enterprises Ltd, 2009
Size: A5, perfect bound, gloss art, 144 pages + cover with 100mm flaps, 50 full-page colour food photographs, over 100 recipes and ideas.
Price: NZ$20.00
ISBN: 978 0 473-14753-2

SKU: 10002